Hualapia Mountain UTV Fest
Hualapai Mountain UTV Fest (pronounced Wall a Pie)
This is an epic adventure and you will not want to miss it.
All activities will be held at the Hualapai Mountain Park. See camping and lodging information below. This is critical for this ride and since we have limited spaces.
UTV Offroad Adventures presents Hualapai Mountain Park. You won't want to miss this weekend filled with adventure! This three-day event will take you on some of the most scenic trails Arizona has to offer in safe and organized manner. We will provide guided trails, meals, quick draw poker, corn hole tournament, raffles, and lots of fun, laughs and good times. Designed for all age groups and UTV experience. Come and see what we are all about and meet new and old friends. We will take you on a night ride and guided trail rides all while raising money for AZ Kidz Experience, a nonprofit charitable organization that supports Phoenix Children's Hospital.
When Dan and Kyle were scouting all the trails, they commented on these being the most scenic trails they have seen yet.
One ride will take you to the Boriana Mines. The Boriana Mine was the second-largest tungsten mine in the US operating intermittently from 1915 to 1980. The underground workings consisted of 12 levels and nearly 3 miles of drifts! Secondary minerals from this tungsten mine included gold, silver, and copper. Today, parts of some of the original structure is still standing. Most of the wooden framing has fallen in on itself and many nails protrude from the old timbers. It is interesting to walk amongst the ruins, but caution is required as the wood is old and many nails protrude from the structure. There is a small spring near the mine which feeds into a small pond with goldfish swimming in the clear water. A great place to stretch your legs and enjoy a piece of history. In addition, you will have the opportunity to see some Petroglyphs.
The second ride will take you to the Hole in the Wall. You will experience being in the tall pine trees and then decent into the yucca trees and back to the tall cool pines. Also located is the Kappa mine and the 'ovens' that were used in the mining days.
News: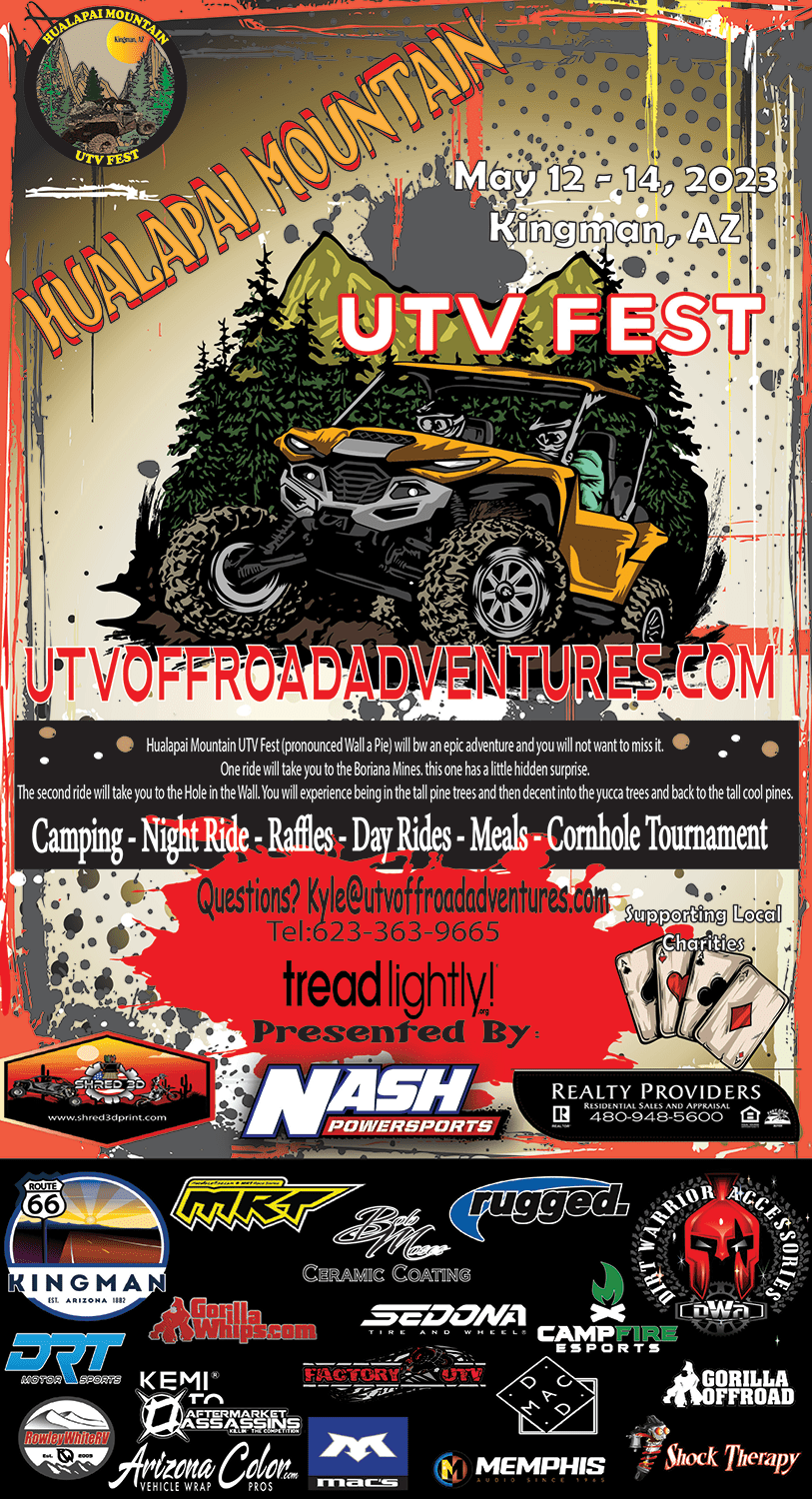 Update for Hualapai Mountain UTV Fest
Just talked to the Cabins up there for rent and they informed me there is only 1 cabin left for rent for our event so don't wait call 928-681-5700 now, also they only have 11 RV spots left for our event so please don't wait call that number and reserve your spot so you don't miss out on a fantastic event.
Make sure to bring 5 gallon jugs of fuel because there are no close gas stations. So please make sure to bring extra fuel for each ride.
I know its early, BUT, if you plan on attending the Hualapai Mountain UTV Fest May 12-14, 2023 read this..
This is on first come first serve so I would reserve your cabin or RV spot today. Very limited and they will sale out fast!
Camping/Lodging:
We only reserved 14 cabins and 15 full hookup RV spots so make sure you call today to reserve your spot.
MUST TELL THEM YOUR WITH UTV OFFROAD ADVENTURES
Kingman is about 25 miles away but down the mountain so it take more time to drive back and forth.
Full RV Hookups (15 RV Spots) at Hualapai Mountain Park
Address: 6250 Hualapai Mountain Rd, Kingman, AZ 86401
Must reserve your RV spot Call 928-681-5700 or 928-753-8611
Cabins
They have 14 Cabins for rent. Must call to reserve 928-681-5700 or 928-753-8611
2023 Schedule